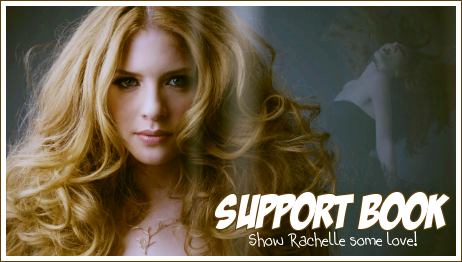 English:
Hi everyone! Well, my best friends and I had the opportunity to meet Rachelle Lefevre (Victoria, on Twilight) at the Comic Con in San Diego last month and she was so sweet with us, we talked a little while, and well, in general we liked her a lot and she has become one of our favorite persons in the world =D...we love her!♥
We decided to make her this Support Book to show her that we support her as an actress and that we admire her as a person. We're planning to get together messages for her, and then print them out to make a scrap book and send it with other gifts. I hope you'd like to participate, it's very easy! Just fill out the form below and leave a comment here =). You have until
October 9
to submit your message.
-Name:
-City/Country:
-Message:

Thank you!
Spanish:
Hola a todos! Les cuento que mis mejores amigas y yo tuvimos la oportunidad de conocer a Rachelle Lefevre (Victoria, en Crepúsculo) en el Comic Con de San Diego el mes pasado y se portó súper linda con nosotros, hablamos un rato, y bueno, en general nos cayó muy bien y se ha convertido en una de nuestras personas favoritas en el mundo =D...la amamos!♥
Decidimos hacerle este Support Book para demostrarle que la apoyamos como actriz y que la admiramos como persona. Planeamos juntar mensajes y después imprimirlos para hacerle un scrap book y mandárselo junto con otros regalitos. Espero que deseen participar, es muy fácil! Si saben hablar Inglés escriban el mensaje en Inglés por favor. Si no saben, pónganlo en Español y nosotras lo traduciremos lo mejor que podamos. Sólo llenen el formulario que está abajo y dejen un comentario aquí =). Tienen hasta el
9 de Octubre
para dejar su mensaje.
-Name (Nombre):
-City/Country (Ciudad/País):
-Message (Mensaje):


Gracias!
Edit:

THANK YOU RACHELLE, YOU ROCK ♥